Minimal Pairs
An auditory discrimination activity.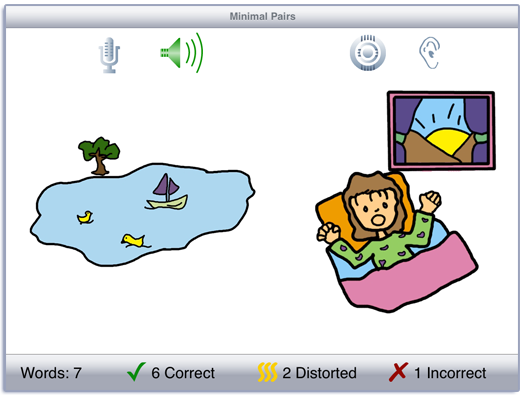 This app helps children discriminate between words that differ in pronunciation by one sound. They learn to hear the difference between words like "stop - top" and "rake - wake". They are prompted to "Show Me" the target word by tapping on the colorful pictures and listening for the sounds in the target word and a foil.
Target Audience: Appropriate for children ages 3-5 with impaired speech intelligibility.
Just $5.99 on the App Store.
See More Images

View the Wordlist
Information for Professionals:

This app uses a phonological approach to remediating speech that is based on the ideas of Hodson and Paden. The program focuses on target patterns rather than target phonemes. One pattern is targeted for a limited time, two to four weeks, then the next pattern is targeted. Hodson and Paden called this method of introducing patterns a "cycle".
A clear speech model is presented for the child to imitate and they can record and play back their own speech. The clinician can choose from three scoring methods. 1. Score each response as correct, distorted or incorrect. 2. Score responses as correct, distorted, substituted, or omitted. 3. Score productions based on whether they are spontaneously correct/incorrect or imitatively correct/incorrect.
This app focuses on Final Consonants, Initial Consonants, and Initial /S/ Clusters. Appropriate for children ages 3-5 with impaired speech intelligibility.
This app uses the content from the Minimal Pairs game from LocuTour's Phonology CD.
Rationale: The ability to perceive the similarities and differences in words is the receptive activity necessary to develop auditory phonological processing. Receptive processing needs to be consistent and accurate before consistent and accurate expressive production is possible. Auditory processing of minimal pairs establishes an auditory strategy for comparing and contrasting speech at the one-syllable level.