Apps en español
Learning the little words.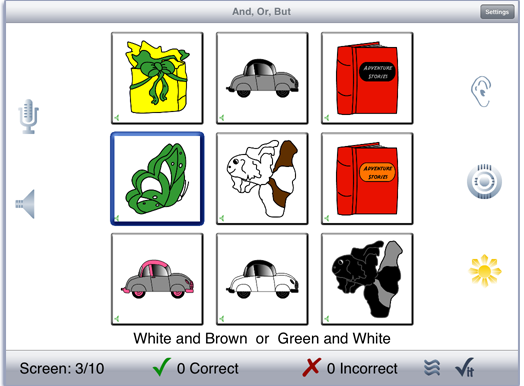 And, Or, But… requires the player to find the object on the screen that has a specified color, size, number, or spatial relationship.
There are four levels of difficulty and seven tasks: And, With; Qualitative Relationships - Size; Quantitative Relationships - Number; Spatial Relationships; Or; Negatives; and Challenge. The app can be used with English or Spanish text and sounds.
Responding to a direct request such as "Show Me…" is an important response. It indicates the receptive understanding of the command and the target word, and it shows the ability to demonstrate comprehension using an expressive motoric response.
The user can also change the voice that presents the prompts to a male voice or to a female voice in the Spanish language. If Spanish is chosen, the text below the items will be displayed in Spanish.
This app extends the concept of following simple one-step instructions and adds linguistic complexity.
Get And, Or, But… Following Simple Directions at the App Store for $5.99


Phonology for your Spanish speaking clients.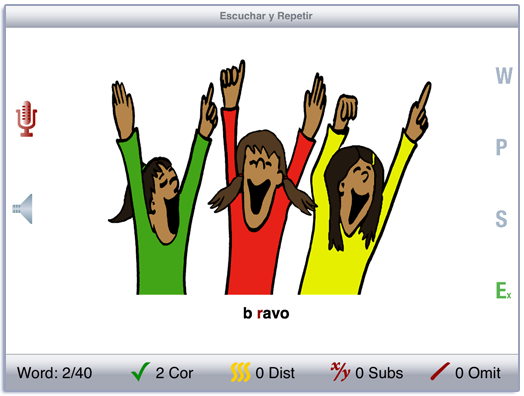 This app uses a phonological approach to remediating speech that is adapted from the ideas of Hodson and Paden and based on the unique features of the Spanish Phonological System.
Tap on the sound buttons to listen to the target sound as it is provided in a word, with the target sound separated from the rest of the word, and an exaggerated target sound in the word context. Then listen to the target word used in a phrase, and sentence.
The program focuses on target patterns rather than target phonemes. One pattern is targeted for a limited time—two to four weeks—then the next pattern is targeted. Hodson and Paden called this method of introducing patterns a "cycle".
This app can be used by English-speaking clinicians who have Spanish-speaking clients.
Get Escuchar y Repetir—Spanish Phonology at the App Store for $5.99


Explore language while learning about critters.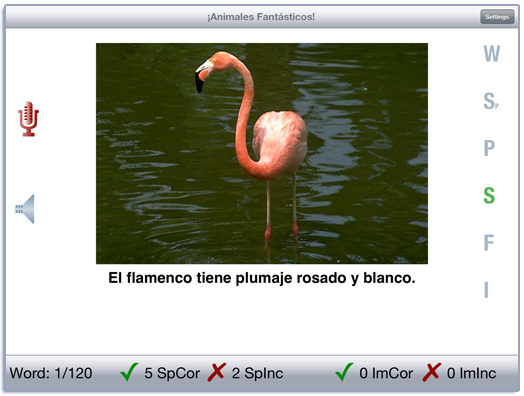 Parents will find "¡Animales Fantásticos!" to be a fun way to teach children new vocabulary, ask and answer questions, and practice great articulation.
Learn about animals from many different habitats: house, farm, forest, ocean, jungle, grasslands, arctic and more!
Listen to the word by tapping on the Word button or on the picture, then use the record button to record your voice.
The Parentese button will provide a model that a parent might use with a very young child. For a longer model the child can tap on the descriptive buttons–Phrase, Sentence, or Functional Sentence.
This is a translation of the content of Wild, Woolly, Wonderful Critters. It can be used by English-speaking clinicians who have Spanish-speaking clients.
Get ¡Animales Fantásticos! at the App Store for $1.99


Learn receptive and expressive language skills.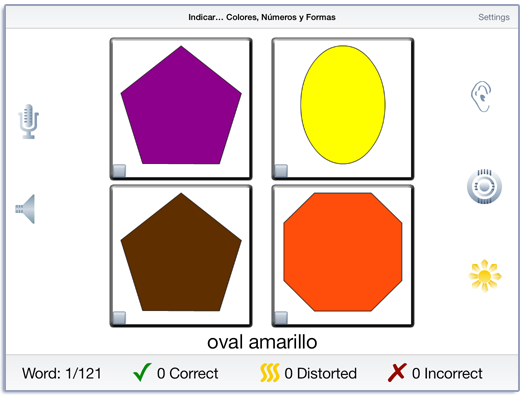 Children are often asked to do things like "count the number of red apples". Before they can perform this direction, they must understand several "quality of" concepts. Specifically, they must understand colors, numbers, and shapes so they can follow the the entire direction.
This is a simple app for teaching colors, numbers, and shapes to Spanish-speaking children who will benefit from an app with no distractions.
This is a translation of the content of Show Me… Colors, Numbers, and Shapes. It can be used by English-speaking clinicians who have Spanish-speaking clients.
Get Indicar… Colores, Números y Formas at the App Store for $2.99


Memory and Phonology practice in Spanish.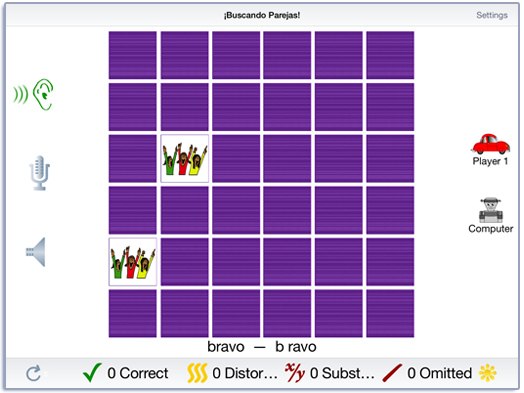 Match Ups! is one of our favorite games of all time. The first version of Match Ups! was added to our Attention and Memory:Volume I CD in 1996 and we've been enhancing it ever since. This version uses the words and pictures from our Escuchar y Repetir app.
The game starts out with you against the computer. At first the computer plays randomly, but you can make the game more challenging by increasing the computer's skill level to Beginner, Good, or Expert. When playing in the expert level, the computer rarely makes a mistake—it is very hard to beat. You can also play with a friend. Just type their name in the second box and away you go. If you want to play by yourself, you can do that too.
You can play with 4, 6, 16, 24, or 36 cards on the screen. The cards organized into four groups: Consonant Sequences, Liquid Singletons, Postvocalic Consonant Singletons, and Prevocalic Consonant Singletons. You can choose simple blue, green, purple, or red card backs or spice things up and choose fun backs.
Get ¡Buscando Parejas! at the App Store for $1.99


Thousands of pictures at your fingertips—3,328 to be exact.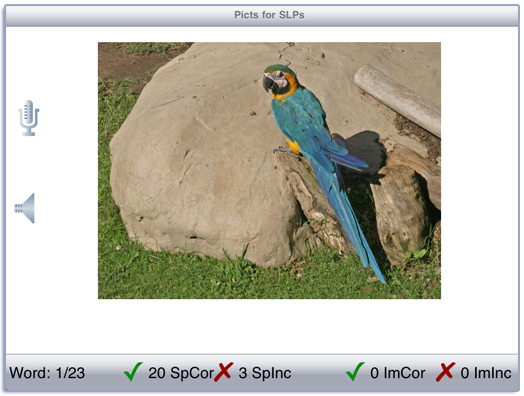 Pick pictures that match the interests of the child you are working with. There are 11 major categories like Plants, People, and Places. Within each category, there are sub-categories like Body Parts, Working, Playing, Airplanes, Trains, etc.
If you have a child who is fascinated by trains or planes, you can pick photos that will keep their interest. If you are working on expressive language skills, pick a category that they can relate to and ask the child to describe the actions in the picture. Can they imagine eating the food or petting the bunny?
You may change the text prompts to develop receptive and expressive language skills, articulation, word retrieval, pragmatics, voice, fluency, and more. If you have iOS7 or greater, the iDevice will speak the text for you.
Get Pictures for SLPs and Special Education Teachers at the App Store for $4.99