Literacy: Get Ready to Spell!
You choose the words on this CD!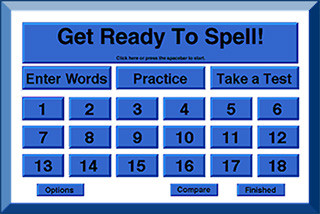 Get Ready to Spell! is an easy way to prepare for weekly spelling tests. A great way to practice hard to master words or expand vocabulary. Now available as a free download at our downloads page.
Target Audience: Appropriate for elementary school children who have weekly spelling tests. Computer-assisted drills can be individualized for all learning types (i.e., visual, auditory, kinesthetic).

Literacy: Get Ready to Spell!
by LocuTour Multimedia
Customers who bought this item also bought Literacy: 3 CD Set.
Information for Professionals:

Learning Plan
Monday: Enter the words and review them once or twice.
Tuesday: Use the program to Practice the words before you start your homework and again after you have finished the rest of your homework.
Wednesday: You are ready to Take a Test. Print out the results of the test by clicking on the Print button. Try to figure out why you misspelled any words that you missed. Switch back to the Practice mode and run through the words again, even if you got all of the words right. Remember that we want the words to be moved to permanent memory and the more times you see, hear, and write them the more likely it is that you will remember them.
Thursday: Test yourself again. Review any words that you missed. Now you're ready for the test on Friday.
Learning the Words
Once the words are correctly entered you can start drilling yourself on the spelling words. This should be easier than usual because you already learned a lot by entering the words and checking their spelling! Keep on drilling even if you know all of the words. You want to be able to remember them forever so make sure they are firmly lodged in your brain.
Testing Yourself
Use the Take a Test button to give yourself a practice test. You will be tested on all of the words in a random order.
---