"It's a..." Bundle
Therapy for Expressive Naming Disorders
Practice word finding skills using real photographs of food, household objects, animals and other objects that we see everyday.
Target Audience: Appropriate for speech and language development for neurotypical children ages 3-8. Also appropriate for Children, Pre-Adolescent, Adolescent, and Adults with Aphasia, Apraxia, Dysarthria, Autism, PDD, Down Syndrome, Cerebral Palsy, Language Delay.
"It's a..." Bundle
by LocuTour Multimedia
Windows Only
Available by download from Gumroad.
Information for Professionals:

We combined 100 Pictures of food, 100 pictures of Everyday Objects, 100 Mixed pictures, 120 pictures of animals in their habitats, and 25 pictures of Spanish foods for a total of 545 vocabulary words to give you a comprehensive CD for developing basic vocabulary and treating Aphasia.
We've also included And a One, Two, Three! for syllable segmentation practice. The CD is appropriate for children and adults with word finding problems.
"Es..." Todo is a Spanish version of "It's a..." Bundle. It includes "It's a..." Food, "It's a..." Animals, and Spanish language version of ABC. This version of And a One, Two, Three! has two to ten syllables to practice syllable segmentation in Spanish.
Games on this CD.
"It's a..."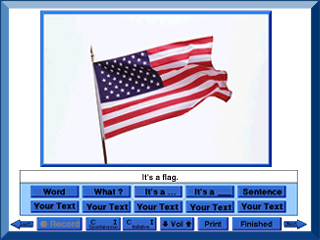 Full color photos of everyday objects and food with word and sentence models designed to improve accuracy, fluency, and speed of word retrieval.
Inside; Outside; At Work; At Play
Everyday objects found around the house, office, yard, garage, and in leisure activities are included in this section. The 100 words are mostly familiar but some unusual features of an object may be included to encourage further conversation. The objects include leisure items that can encourage retrieval of distant memories and newer, modern items for comparison to current objects found in the home.
Miscellaneous
Miscellaneous brings interesting scenes to your classroom. It has distinct, clear photos with a variety of cueing strategies to provide both visual confrontation and responsive naming tasks. The pictures were chosen to provide an opportunity to use specific verbs in conversation. There is a range of climates and locales to initiate conversation about weather and locations. The household objects and animals have some easy to name items and some more difficult ones. The backgrounds vary from a clean uncluttered background with the picture surrounded by white to the target item surrounded by the natural environment. This allows naming practice in both a simple and complex figure/ground background.
Fruits; Vegetables; Snacks; Meals; Las Comidas Típicas
Familiar food items are generally easy to name and have a high interest level. We all want to be able to choose our menu. The 125 pictures are placed in five categories. They are: fruits, vegetables, snacks, meals, and foods from Latin America, Mexico, and Spain. The photographs are arranged hierarchically from most familiar to least familiar.
"It's a..." Animals
"It's a..." Animals has 120 pictures of animals in their habitats.
House; Ranch/Farm; Forest; Mountain; Desert; Insects; River/Lake; Ocean; Africa; Jungle; Prairie/Grasslands; Tundra/Arctic The most basic photographic and written stimuli are of animals around the house. There is a hierarchical progression through animals that live in the jungles, oceans, and other habitats of the world to the final (12th) category of animals on the tundra or those in arctic weather. The one category that is not by habitat is the Insect category, since insects are in all habitats! There are 120 animals to talk about.
You will undoubtedly notice that some animals could be located in more than one habitat. While it was difficult to make a final determination, we chose the groupings based on where the photograph was taken and the logic of keeping animals in familiar settings, which should lead to easier recall of the word.
And a One, Two, Three: Vol. 2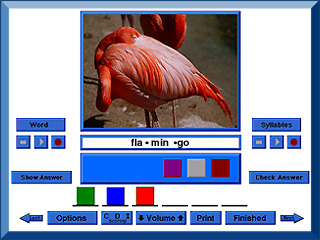 Phonological Processing and Vocabulary Development in Context
And a One, Two, Three works on syllable segmentation. It has 360 words and phrases from one to six syllables. The mix of familiar and unfamiliar words challenges the student to listen closely for the number of syllables. They drag one colored block down to the dashed line for each syllable in the word. Clicking on the Check Answer button lets them check their work.
The Show Answer button puts the correct number of colored blocks on the dashed line and the computer says the word with distinct pauses between the syllables. Students can use the two sets of recording buttons to record their voice and compare their production of the word or phrase with ours. A homework page, with the picture and the word, can be printed out so students can practice at home. Sample vocabulary words are:
| | |
| --- | --- |
| bugs | 1 syllable |
| parrot | 2 syllables |
| broccoli | 3 syllables |
| somnolence | 3 syllables |
| lemons and limes | 4 syllables |
| precipitation | 5 syllables |
| American flag | 5 syllables |
| telephone messages | 6 syllables |
| unoccupied bleachers | 6 syllables |
This CD is appropriate for: Articulation ages 4-10, Apraxia, Dysarthria, Auditory Perception/Processing, Auditory Memory, Phonemic Awareness, Naming, Verbal Expression-Primary/Elementary, Verbal Expression-Adult, Autism, Aphasia, TBI, HOH, Accent Reduction, Fluency.